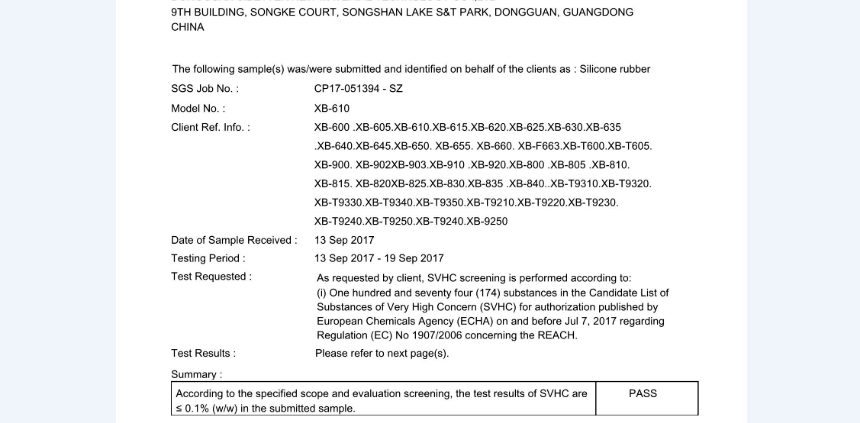 Sibetter Silicone Rubber Factory finally get the certificate of REACH for liquid silicone rubber products that manufactured by self on Sep. 20th,
The products that can pass REACH CERTIFICATE is as follows:
Platinum cure mould making silicone: XB-600~XB-660#
Lifecasting silicone rubber: XB-800~XB-840#
Silicone gel: XB-900, XB-902#
What is REACH CERTIFICATE?
REACH is a new European Community Regulation on chemicals and their safe use which stands for Registration, Evaluation, and Authorization of Chemical substances. The pre-registration phase started in June 2008.
The aim of REACH is to improve the protection of human health and the environment through the better and earlier identification of the intrinsic properties of chemical substances.
The REACH Regulation gives greater responsibility to industry to manage the risks from chemicals and to provide safety information on the substances. Manufacturers and importers will be required to gather information on the properties of their chemical substances, which will allow their safe handling, and to register the information in a central database run by the European Chemicals Agency (ECHA) in Helsinki Finland.
https://sibetter.com/wp-content/uploads/2017/09/reach-for-sibetter-silicone.jpg
500
860
administrator
https://sibetter.com/wp-content/uploads/2016/11/logo-2.jpg
administrator
2017-09-21 04:05:19
2017-09-21 04:06:04
Sibetter Silicone Rubber Factory Get The Certificate of REACH for Liquid Silicone Products