Generally, there are two ways to make the silicone rubber moulds. Now we are going to introduce you how to use Sibetter silicone rubber to make the moulds by pouring way, which is the most easy way to make the moulds with simple patterns. 
Operation
Step 1 Handle the original mold
Choose a intact original mold, then polish and smooth it to make it clean and dry. After that, fixed the original mold in a square frame made by 4 pieces of smooth wooden/glass/carton board. Brushing the release agent evenly on the surface of original mold and wooden board.
Step 2 Reclaiming
Weight Sibetter Silicone Part A&Part B according to the mixing ratio recommended
Note: generally, the mixiong ratio of the condensation cure silicone is 100:3, and that of platinum cure silicone is 1:1 or 10:1.
Step 3 Stirring evenly
Mix and stir part A and part B evenly, otherwise the silicone rubber will be partly solidified and we don't get a nice silicone mold. Even if we got the finished mold, the demould times or the shelf life of the mold would be impacted.
Step 4  Vacuum pumping and pouring
After mixing evenly, put the mixture into the vacuum machine to release the air bubbles for 3~5mins. Then pour the mixed silicone rubber into the square frame from a corner, making the silicone rubber fill into the frame smoothly.
In this step, don't vacuum the mixture too long, saying over ten minutes, otherwise it will cause cross linking reaction then cured, and no more further steps will be available.
Generally, the less the bubble is, the better the performance of the mold would be. But It is also ok if no vacuum machine. We can release the bubbles by longer the operation time or use a brush to deal with it.
Step 5 Demoulding
After 3-5 hours later, it can be demoulded, theoretically speaking. But It's will be better to wait for 24hours to demould it and another 24hours to put the mold on production for the compete curing and reaction would maximize the performance.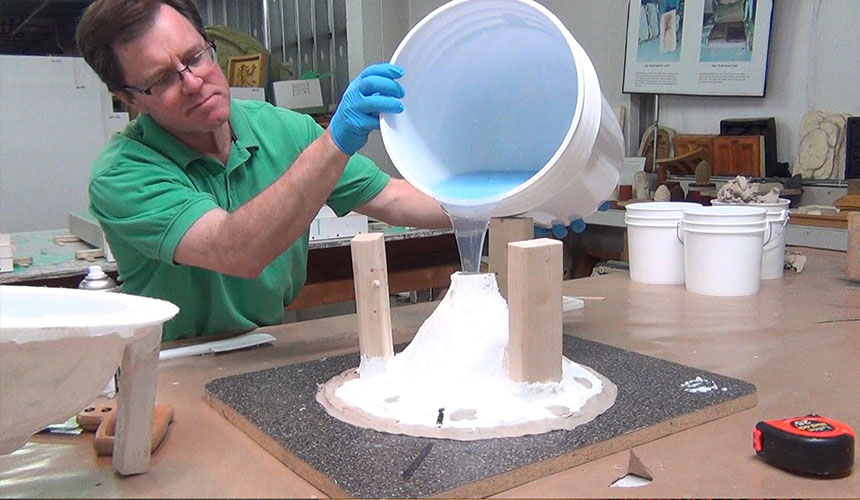 Also, the other way to make moulds is brushing way. Then what's the difference?
Pouring way
Advantages: easy-operation, suit for the product with smooth surface, no mold-line
Disadvantage: with a lot of silicone rubber
Brushing way
Advantages: saving silicone rubber, copy the detail pattern clear
Disadvantage: with a lot of time, complicate operation, difficult to learn
https://sibetter.com/wp-content/uploads/2014/11/how-to-make-moulds-by-pouring-way-1.jpg
500
860
admin
https://sibetter.com/wp-content/uploads/2016/11/logo-2.jpg
admin
2014-11-08 18:56:26
2014-11-08 18:56:26
How to Use Sibetter Silicone Rubber to Make Mould by Pouring Way